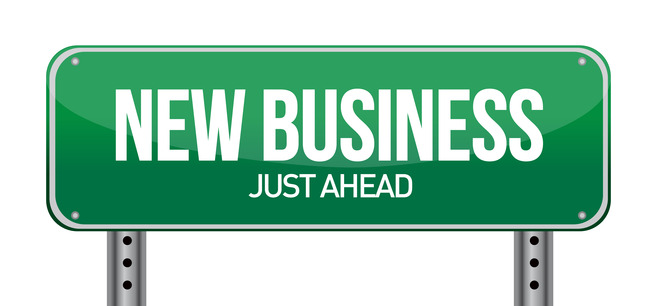 Commerce Pointe- the newest development being created in town is now underway! Exit 6 will be getting a big retail development across from Black Bear Diner and McDonalds. A Maverick is currently under construction on the corner and more is soon to come.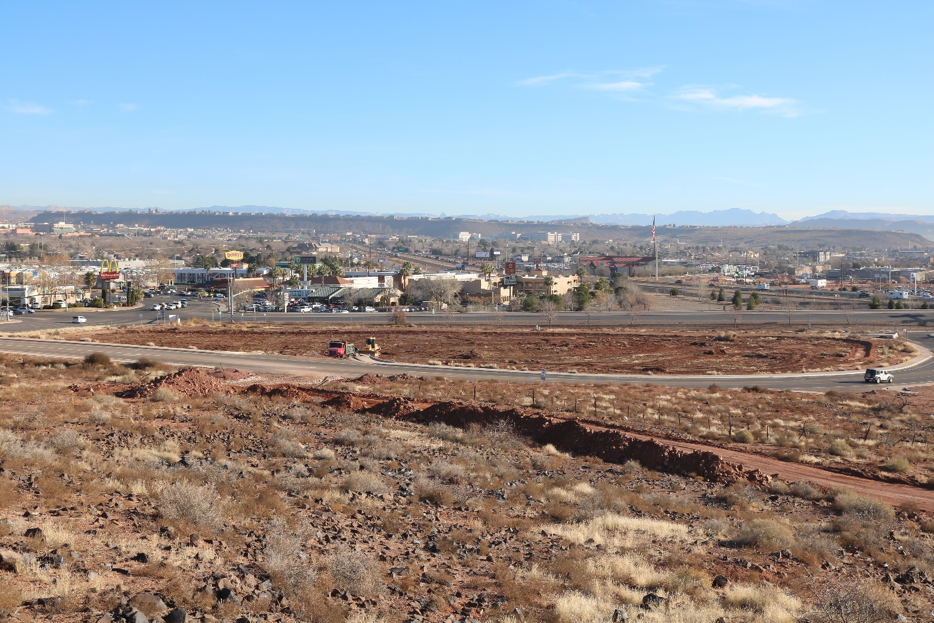 City View downtown development- officially broken ground! The first mixed-used retail/apartment complex and underground parking garage will be finished by late fall/early winter this year and then the second complex along with "The Advenire" hotel is slated to finish in the spring of 2019. More info here
http://stgeorgenews.com/news/archive/2017/12/22/mgk-40-million-city-view-project-breaks-ground-in-heart-of-st-george/#.Wj2vFm5lCEc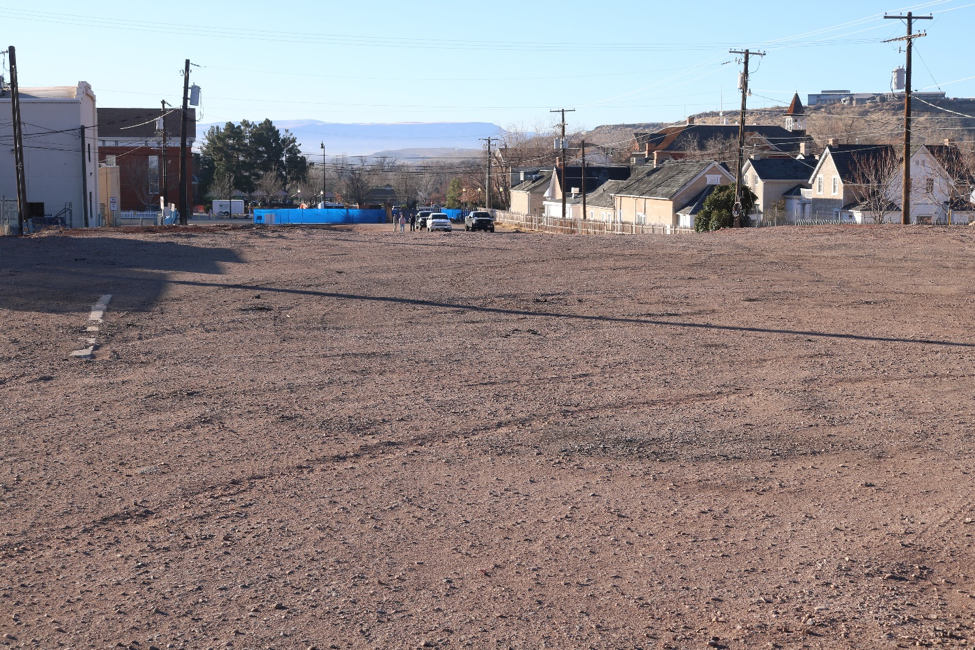 Popeye's Chicken is now open at Boulder Crossing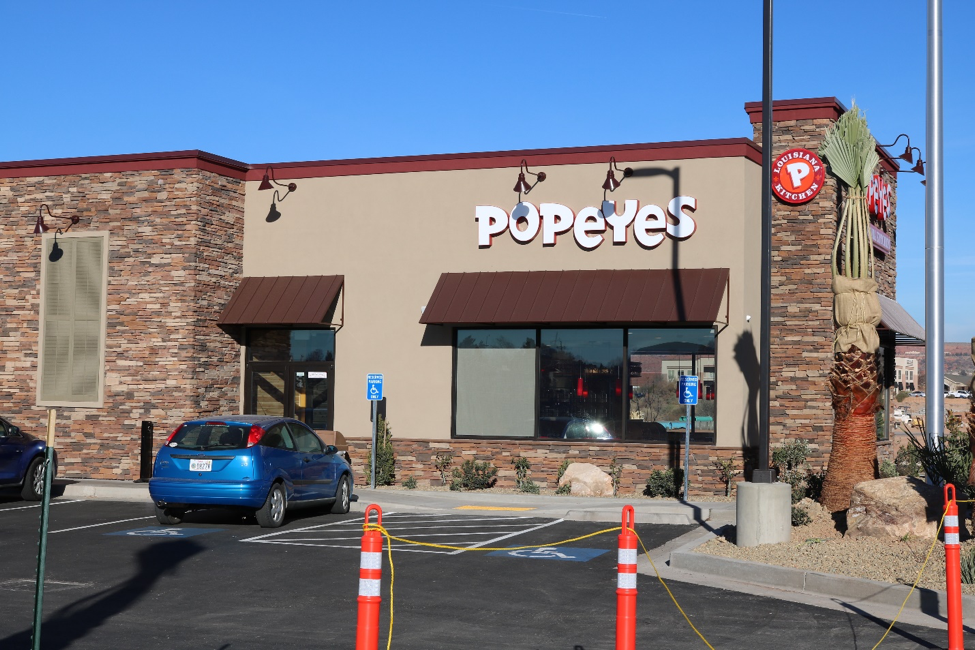 Café Rio now open in Santa Clara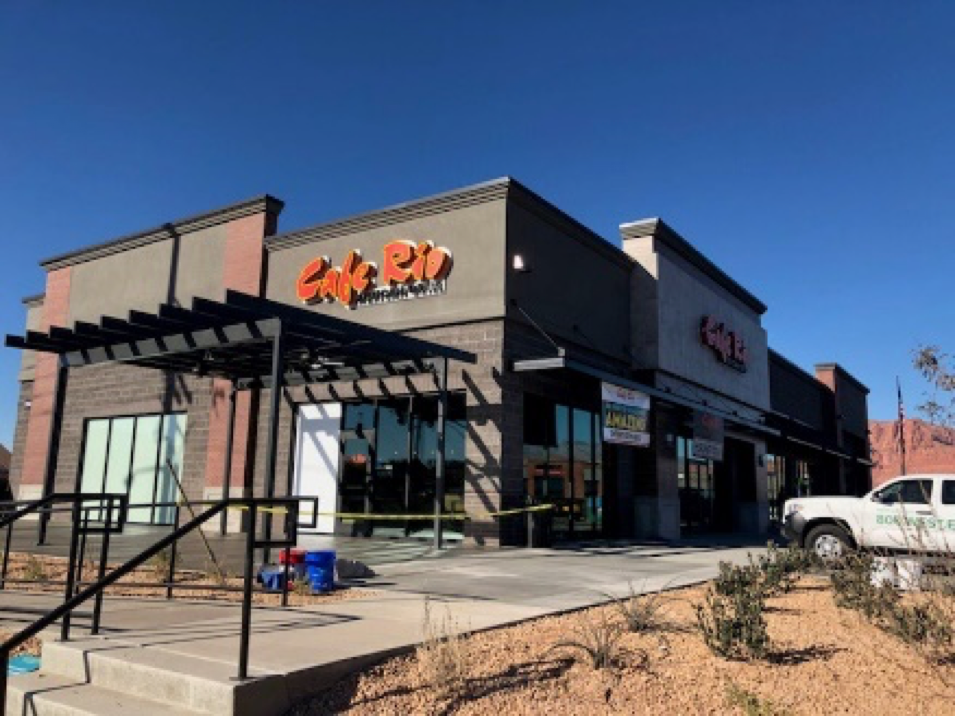 People's Town and Country Bank- Town and Country Bank and Bank of American Fork have merged into People's Town and Country Bank. They also have purchased land in Boulder Crossing and will begin construction in 2018 on a new branch.

Springdale- Canyon Ranch hotel has been torn down and is being replaced with a Best Western

Virgin- There is a Marriott hotel underway and more development out there coming soon.

La Verkin- A Wyndham hotel will be going under construction south of the Farmers Market

Splash City Adventure Park- sign is UP! They've got also a website that shows what attractions will be part of the park. Check out http://splashcitysg.com/index.php!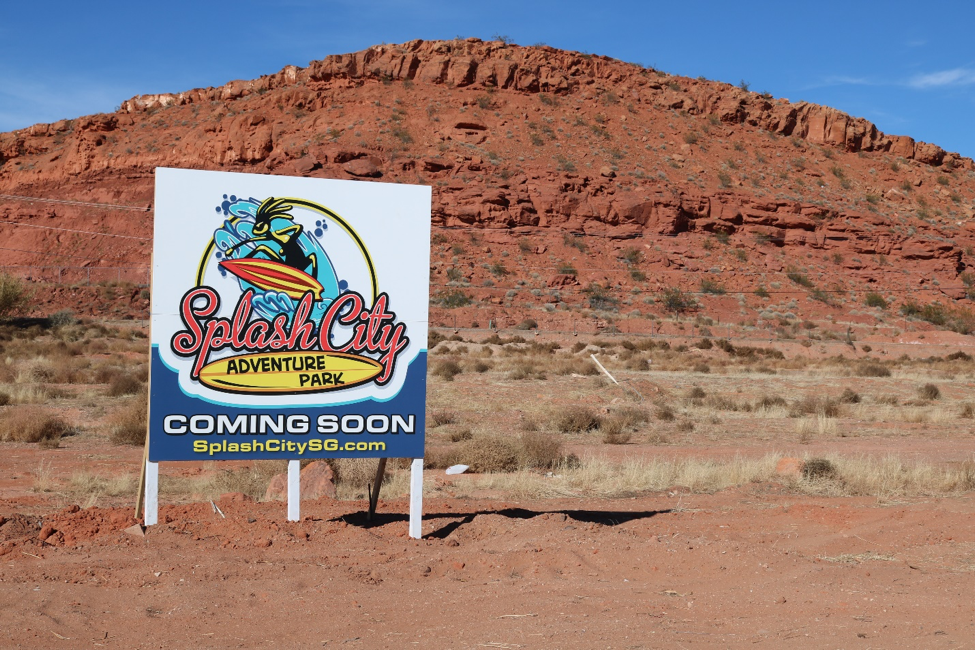 Pieology- Pieology is replacing the Wing Nutz location on River Road in the Red Rock Commons next to Yogurtland. Construction is underway and is scheduled to be open in the next couple months!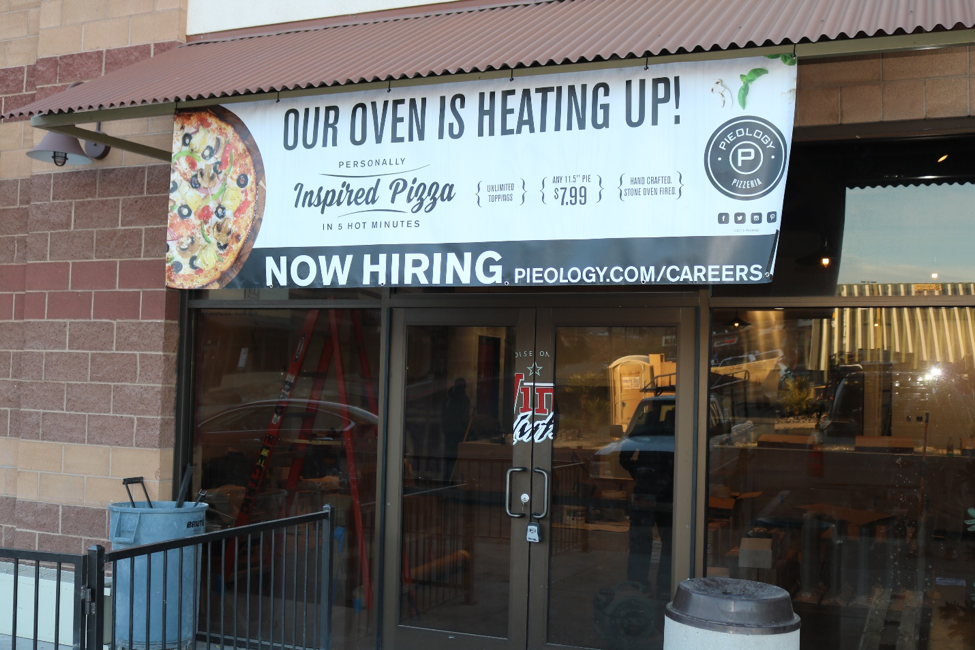 For more info on the best local spots in St. George, check out thebestofstgeorge.com!
---
Sunset Blvd/Bluff St project:
Bluff Street Corridor project schedule, map, and video of what it will look like. Buildings have already been bulldozed and is scheduled to start construction this winter and finish in winter of 2018
http://www.udot.utah.gov/bluffst/map-schedule
Boulder Creek Crossing: Intersection of River Rd. and 1450 S (by Summit Athletic Club)
Stephen Henager's College- construction is underway

Pepper's Cantina- In permitting process

700 Degrees Pizza- In permitting process

First Colony Mortgage office- In permitting process

Pop Shop Drinks- In permitting process

Big grocery store (like a Whole Foods)- negotiating

People's Town and Country Bank- In permitting process

2 Insurance groups, financial investment group

Bike store

Running center

Copy center
Fiiz Drinks- OPEN

Dominoes- OPEN

Crimson Pharmacy- OPEN

Hustle Sports Nutrition- OPEN
Dinosaur Crossing: Intersection of Riverside Dr. and Mall Dr
ACE Hardware- construction is underway

Beans & Brews, Kneaders, and Bahama Bucks complex- construction is in progress
Desert Hills Plaza and Townhomes:
20,000 square feet of retail and office space along with 54 townhomes across from Desert Hills High School. A gas station will go in on the corner as well. Construction is under way.
Riverside Dr:
Riverfront Medical Center- Riverside Dr. behind Cox Landing. Under Construction
Assisted living home- construction is in progress. Next to the Ence subdivision at the end of Foremaster around the bend.

Lube center and tunnel car wash- West of the Maverick. Not confirmed who yet, but are in talks.

Dinosaur Professional Park plat map recorded which means something is in the works there. It is located on Riverside Dr. just east of the Dinosaur museum.
Hospital: the $300 million extension is under construction and will be finished soon.
River Rd:
Tech Ridge (old airport hill):
Dixie Applied Technology College- under construction.
The Players Sports Grill building will be turned into Guadalajara Grill, an upscale Mexican restaurant.

My Place hotel is now under construction soon right behind the Culver's restaurant down by the Convention Center.

Staybridge Hotel is now under construction across from Furniture Row.

Tru by Hilton is now under construction across from Furniture Row also.

A new Findlay car dealership is now under construction.

Guadalajara Grill- new upscale Mexican restaurant going into the old players building. Scheduled to open around the end of this month!
https://www.google.com/amp/s/amp.thespectrum.com/amp/87306700
Café Sabor- 290 E. St. George Blvd (where Wagon Wheel used to be). Now OPEN!

Comfort Suites Hotel- now OPEN.
Harmons fuel station- unfortunately Chef Alfredos restaurant has been taken down but Harmons will be putting in a fuel station in its place. Under construction
Kenworth Truck Sales Company- Land is purchased for a new 20,000 square ft. sales, parts, and service facility. No start date confirmed.

Hampton Inn- 5 story, 120 room hotel. Under construction, expected to be open by the end of 2017.

New Utah Visitor Information Center- no start date confirmed but plan to be finished by the end of 2017.
Taco Bell- on Red Cliffs Dr. down from Stadium 10. Under construction.

New 15 acre development where St. George and Redlands RV Parks are currently along 1-15.

Large hotel along with a bunch of businesses surrounding it behind the Chevron in front of Green Springs. In permitting process, but no start date confirmed.

Pine View 10 Plaza- a new retail building with 2 spaces. T-Mobile and Brent's Pharmacy confirmed.

Splash City Adventure Park- waiting on approval.

Whole Juice Café- new restaurant open in the strip mall behind Texas Roadhouse, next to Subway at 2654 E. Red Cliffs Dr. #B. More info available here
https://ordering.chownow.com/order/8479/locations?add_cn_ordering_class=true
Official Strength and Athletics new location now OPEN- personal and athletic training for kids/adults of all ages. Located the industrial area south of Costco. More info here
www.officialstrength.com
Love your bath & body- new store next to Durangos. They have bath bombs, bath salts, lotions, candles, and pretty much anything else that women love. It's now OPEN!
Sienna Hills Commercial complex- Black Bear Diner has broken ground and more businesses will follow suit. Stay tuned!
Grapevine Crossing- new commercial retail complex in the works off exit 13 across the roundabout from Maverick. There hasn't been any movement yet but there will be in the near future.
Crimson Ridge Middle School and High School- under construction. Middle school will open fall of 2018, high school fall of 2019.

Mountain America Credit Union- under construction in front of Lin's. Set to open around the beginning of the year.
Little Caesars- part of the new Harmon's complex in Santa Clara. Under construction.

Café Rio- part of the new Harmon's complex in Santa Clara is now open.

The Difiore Center for Arts and Education. Under construction.
Copper Rock Golf Course in Hurricane- on schedule to finish sometime in 2018.

Clarion Inn & Suites- along the Highway right before the dip into Hurricane. Under construction now.
Townhome/Apartment complexes:
Gray Hawk Apartment Complex- 240 units in Washington Fields behind the new Smith's. Construction is under way. More info at live-grayhawk.com

Legacy Ridge Apartments- Under construction. Next to Rebel Creek off Foremaster and Riverside Dr.

Fossil Hills Townhome Community- townhome complex underway on South River Road just over the bridge from the Knolls/Little Valley next to the Dixie Power station. Under construction.

Blackhawk Townhomes- Luxury complex in Santa Clara that is in the process of being built out. more info available here
http://www.blackhawktownhomessc.com/
We reached 2130 new residential construction permits in 2017 which means there are new subdivisions being developed every month. Here is what was recorded in the month of November, including commercial developments.
New subdivisions recorded in November (residential and commercial):
Taviawk Subdivision Phase 9-S

Hughes Subdivision Ph 2

Villas at Sun River St George Ph 2 and 3
Amended subdivisions recorded in November (residential and commercial):
Sienna Hills Shopping Center Ph 1 AMD
Family Activities
Precision Hearing Monday Movie Matinee: Electric Theater every Monday at 1:00 PM. FREE! More info available here
https://www.facebook.com/PrecisionHearingMatinee/
GeorgeFest Street Festival- January 5th at 8:00 PM downtown Main Street
Shows playing at Tuacahn throughout the month. More info available here
https://www.tuacahn.org/online/
Sand Hollow Resort events: Live music and entertainment every Friday and Saturday night. More info available here
http://www.thedesertpulse.com/sand-hollow-resort-announces-partnership-with-the-desert-pulse-to-present-live-music-and-entertainment/
---